Quick Details of HDPE Cross Pipe Fitting
| | |
| --- | --- |
| Product Name | HDPE cross Pipe Fitting |
| Brand | Haili(Customer brand is available) |
| Dia Ranges | DN16-1600mm |
| Raw material | PE100, PE80 |
| Application | HDPE Fittings for water, oil and gas, mining, marine, drainage, chemincal, Irrigation, fire fighting... |
| Category | HDPE Fabricated fittings, tee, elbow, reducer tee, cross... |
| Sample | Sample could be provided |
| Warranty | 50 years with normal use |
| Certificates | ISO9001, CE |
| Delivery time | 3-30 days, depending on the quantity |
| Test/Inspection | National Standard Laboratory/ Pre-delivery inspection |
| Service | Research, Design, manufacture, Test, Sales, Solution Providing, After-sale service |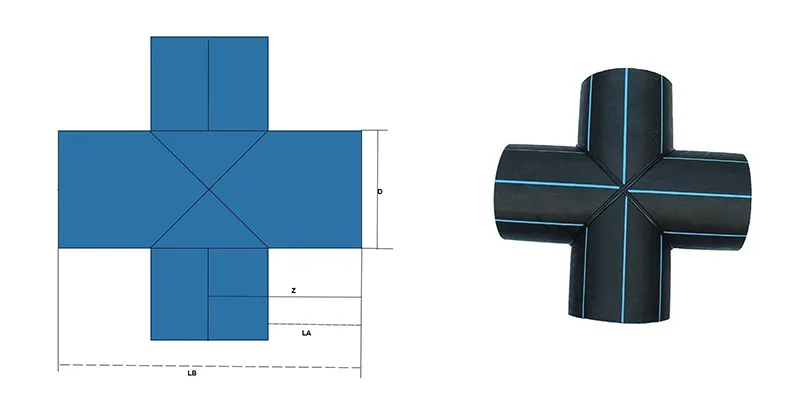 Specification
HDPE Cross Pipe Fittings
Diameter D
Butt Fusion Fittings
LA
LB
Z
mm
mm
mm
mm
50
170
390
195
63
170
403
201
75
170
415
207
90
170
430
215
110
280
670
335
125
280
685
342
140
280
700
350
160
280
720
360
180
300
780
390
200
300
800
400
225
300
825
412
250
300
850
425
280
300
880
440
315
300
915
457
355
400
1155
577
400
400
1200
600
450
650
1750
875
500
650
1800
900


Introduction
HDPE cross pipe fittings are a specific type of fitting used in high-density polyethylene (HDPE) piping systems. These fittings are designed with four openings that intersect at 90-degree angles, allowing for a direct and perpendicular connection between four separate pipes or sections of HDPE piping. The primary function of an HDPE cross fitting is to facilitate the branching of pipelines, creating a junction where fluid flow can be divided or redirected in multiple directions.
Some key features and aspects of HDPE cross pipe fittings include:
1. Material Composition
Constructed from durable HDPE material, known for its high chemical resistance, strength, and flexibility. This material ensures longevity and corrosion resistance in various environments.
2. Versatility
The design allows for fluid flow to diverge in multiple directions, making it suitable for applications where branching or intersecting pipelines are required.
3. Pressure and Temperature Ratings
HDPE cross fittings are engineered to handle a range of pressures and temperatures, making them suitable for both standard and demanding conditions.
4. Jointing Methods
These fittings are compatible with different fusion welding techniques, such as butt fusion or electrofusion, ensuring strong and leak-resistant connections.
5. Applications
HDPE cross pipe fittings are commonly used in various industries and sectors, including water distribution, municipal infrastructure, industrial processing, and irrigation systems. They enable the creation of complex piping networks for diverse applications.
6. Sizes and Specifications: Available in a range of sizes to accommodate different pipe diameters, allowing for seamless integration within the piping system.
Applications of HDPE Cross Pipe Fittings:
1. Water Distribution Networks:
- Utilized in municipal and residential water supply systems.
2. Industrial Processes:
- Applied in industrial settings where the efficient distribution of fluids is essential.
3. Agricultural Irrigation:
- Employed in irrigation systems for effective water distribution.
4. Infrastructure Projects:
- Used in the construction of municipal infrastructure, such as pipelines and wastewater systems.
The use of HDPE cross fittings provides an efficient means to create intersecting points in pipelines, enabling the smooth flow and distribution of liquids in various directions within the HDPE piping network. They play a critical role in the design and implementation of complex piping systems in different industries, ensuring the efficient conveyance of fluids.
FAQ:
Q: What is your MOQ?
A: As customer's request.
Q: Why choose us?
A: We are a professional leader in HDPE pipe factories, we offer pipeline system one-stop services with competitive prices and fast delivery time.
Q: How to buy the product?
A: Contact us by email or by Trade Manager, and inform us which product and quantity you need, we will contact you immediately. The more specific the information that you provide more faster and easier you will get the quotation.
Q: Can I make my own design and logo on the product?
A: Yes, we do OEM. Welcome partner from globally, we can make your product in China.
Q: How can I get some samples?
A: We are honored to offer you free samples, just need to pay the freight cost.
Q: What's the payment term?
A: TT/LC