Constitute about HDPE Steel wire mesh reinforced pipe
The modified bonding resin tightly connects the steel wire skeleton with the inner and outer layers of high-density polyethylene, so that it has an excellent composite effect. Because of the high-strength steel wire reinforcement encased in the continuous thermoplastic, the composite pipe overcomes the respective disadvantages of the steel pipe and the plastic pipe, while maintaining the respective advantages of the steel pipe and the plastic pipe.
From inside to outside, the pipe body is an inner core pipe, steel wire reinforcement, molten body, and outer protective layer.
1. Inner core tube:
mixing extrusion molding, according to different salinity/different chemical composition/different conveying temperature fluid medium, scientifically design material compatibility, PE/PE-T/PEX/PP-R/PB/ PVDF/UHMWPE, etc.
2. Steel wire reinforcement layer:
special high-strength steel wire is wound in both directions. According to various working conditions, the diameter, tensile strength, number of steel wires, and number of layers of steel wire are designed (special conditions such as vertical installation in mountainous areas can adjust the winding angle of local pipe sections) to accommodate axial tensile strength)
3. Melted body:
through the secondary heating treatment of the plastic-coated steel wire, the steel wire, and the steel wire, the steel wire layer and the inner core tube can be completely fused (fully consider the user's use environment, such as the surface non-line pipe, molten material TPE can be added to enhance the ductility of the molten material to adapt to the repeated bending and flexing of the pipe body when the pipe is repeatedly coiled and laid)
4. Outer protective layer:
The overall heating process of the steel wire before coating makes the outer protective layer and the steel wire completely fused to ensure the seamless welding of the whole pipe. Add an appropriate amount of anti-ultraviolet agent, anti-aging agent, toughening agent, etc. to adapt to different use environments.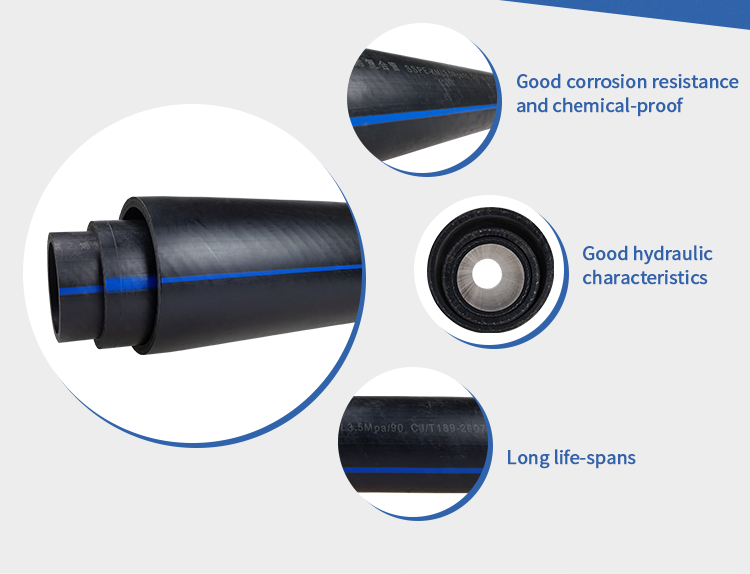 Connection Type about HDPE Steel wire mesh reinforced pipe
◆Connection form: Usually, the mechanical lock head clamp connection form (ha arc sleeve) is used, and the two ends of the joint are fastened by two screws to achieve 360° no difference in force at both ends to ensure reliable connection; according to the working conditions, such as lock head can also be selected Live flange/half flange and other connection forms.
◆Sealing form: a variety of sealing forms such as O-type, V-type, tongue and groove surface, etc., materials are rubber, PTFE, Nitrile, stainless steel, etc.