Advantages of HDPE PE-RT Ⅱ type material
1. Good high temperature and low-temperature performance
95℃,-40℃
2. The body connection can be used [the body connection is the most reliable connection method]
Butt fusion connection, electrofusion connection
3. Large diameter pipes can be produced
The pipe specification can reach DN450mm
4. Good corrosion resistance
Can transport common acid and alkali salts and other chemical media and petroleum
Connection method of PE-RT type II pipe
Steel pipe welding has high worker requirements, and the cost of connection and inspection is high. PE-RT II type pipe and pipe fittings are connected by butt welding or electrofusion, and pipe accessories such as steel pipes and valves are connected by the flange. The whole connection process is simple and easy to master. , The requirements for operators are low, and the connection strength of the joint is higher than the strength of the pipe itself. Under the same conditions, the installation efficiency is twice that of the steel pipe, and the labor cost is reduced by 50%.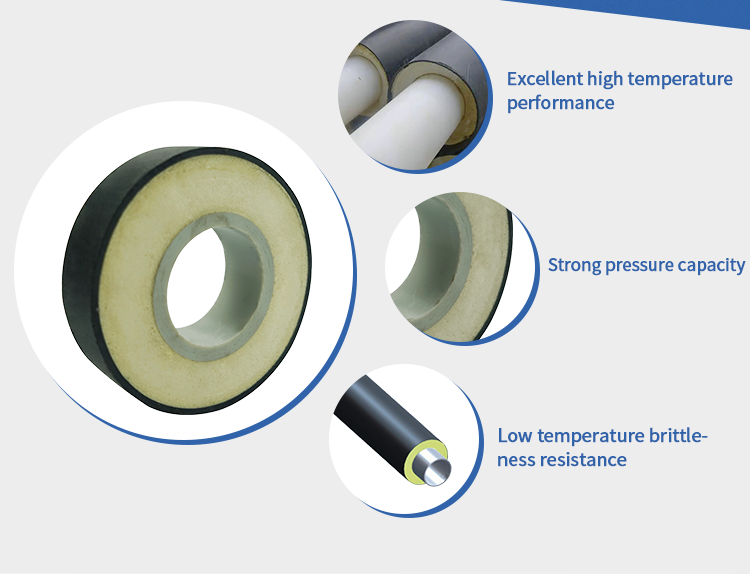 Thermal Insulation Properties of PE-RT Type II Pipes
The PE-RT II type heating pipe is the same as the steel pipe and adopts the three-in-one thermal insulation structure of the working pipe, the insulation layer, and the outer protective pipe. Since the thermal conductivity of the PE-RT II type material is 1% of that of the steel pipe, the pipe itself has better thermal conductivity. The thermal insulation performance of the PE-RT II type pipeline, the thermal insulation layer, and the outer protective pipe are the same, and they will become a whole, which is not easy to delaminate and fall off. The thermal insulation effect of the pipeline is better than that of the steel pipe. Under the same external temperature conditions, Save on thermal insulation materials.
PE-RTII type pipe characteristics
1) Good stability and long-term pressure resistance: the pipe has good homogeneity, stable performance, good thermal creep resistance, and excellent long-term hydrostatic resistance; the performance can reach the performance of PE-Xb pipe.
2) The pipeline is easy to bend and convenient for construction: the bending radius is small (R at most ≤ 5D), and the stress of the bending part can be relaxed quickly, which can prevent the pipeline from being damaged at the bend due to stress concentration during use. PE-RT II type pipe can be connected by butt fusion, so it is easy to repair if the pipe is damaged during application.
3) Good impact resistance, high safety, low-temperature embrittlement temperature up to 70 degrees, can be transported and constructed in a low-temperature environment;
4) Anti-aging and long life: Due to the excellent characteristics of PE-RT material, PE-RT II type pipe can be used safely for more than 50 years under the working temperature of 70℃ and pressure of 0.8MPa.
5) The processing technology is convenient and the quality is easy to control;
6) The waste pipe can be melted and recycled.