There are many types of pipes on the market, and they are different in functions, uses, materials and other aspects. Pprpipe is a very practical and widely used pipe, but whether it can withstand high temperature as a hot water pipe, many consumers who choose pipes have doubts about this. Today I will give you a detailed introduction to ppr pipe
What is PP-R pipe?
PPR pipe is a kind of pipe that is often seen in daily life. For example, PPR pipe is used for domestic hot water supply. PP-R: (polypropylene random) pipe is also called three-type polypropylene pipe or random copolymer polypropylene pipe or PPR Pipes, PP-R pipes are made of random copolymerized polypropylene, extruded into pipes, and injection molded into pipe fittings. At the end of the 1980s, about 5% of PE was randomly and uniformly polymerized in the molecular chain of PP by gas phase copolymerization process to become a new generation of pipeline materials. Our factory adopts advanced production line equipment, and the quality of the supplied PPR pipe is strictly in accordance with the new national standard.
PPR pipe VS other traditional hot water pipes
According to international standards, polypropylene hot and cold water pipes are divided into three types: PP-H, PP-B, and PPR, and there is no PP-C. The PP-C pipe on the market is actually a PP-B pipe, and its raw material is a special material for block copolymerized polypropylene pipes. PP-B pipe is a kind of hot and cold water pipe, the price is relatively cheap, and its heat resistance and pressure resistance performance are far from PPR. For example: use condition classification 2, design pressure 0.6MPadn25mm pipe, PPR pipe wall thickness 3.5mm, PP-B (PP-C) pipe wall thickness 5.1mm; design pressure 0.8MPadn25mm, PPR pipe wall thickness 4.2mm, and PP- B(PP-C) cannot be used. Because the required wall thickness is too thick. PP-C pipes on the market with the same structural size as PPR have much lower service conditions and cannot be used with PPR pipes, let alone replace PPR pipes with PP-C pipes after the use conditions are determined. Service condition 2 means that the design temperature is 70°C, and it is used for hot water supply.
Features of PPR pipes in hot water supply:
1. Non-toxic and hygienic: The raw material molecules of PPR are only carbon and hydrogen elements, and there are no harmful and toxic elements. It is hygienic and safe. It is not only used for hot and cold water pipes, but also for pure drinking water systems.
2. Heat preservation and energy saving: The thermal conductivity of PPR pipe is 0.21w/mk, which is only 1/200 of that of steel pipe.
3. Good heat resistance: The Vicat softening point of PPR pipe is 131.5°C. The maximum working temperature can reach 95°C, which can meet the requirements of the hot water system in the building water supply and drainage regulations.
4. Long service life: The service life of PPR pipe can reach more than 50 years under the condition of working temperature 70℃ and working pressure (P.N) 1.OMPa; at normal temperature (20℃) the service life can reach more than 100 years.
5. Easy installation: PPR has good welding performance. Pipes and pipe fittings can be connected by hot-melt or electric fusion. It is easy to install, and the strength of the connection part is greater than that of the pipe itself.
6. Materials can be recycled: PPR waste is cleaned and crushed and then recycled for the production of pipes and fittings. The amount of recycled materials does not exceed 10% of the total amount, and does not affect product quality.
Such excellent performance of PPR pipe will soon replace the traditional pipe and improve the quality of hot and cold water supply in people's life. If you are looking for pipes for hot water supply, we hope you will consider PPR pipe first.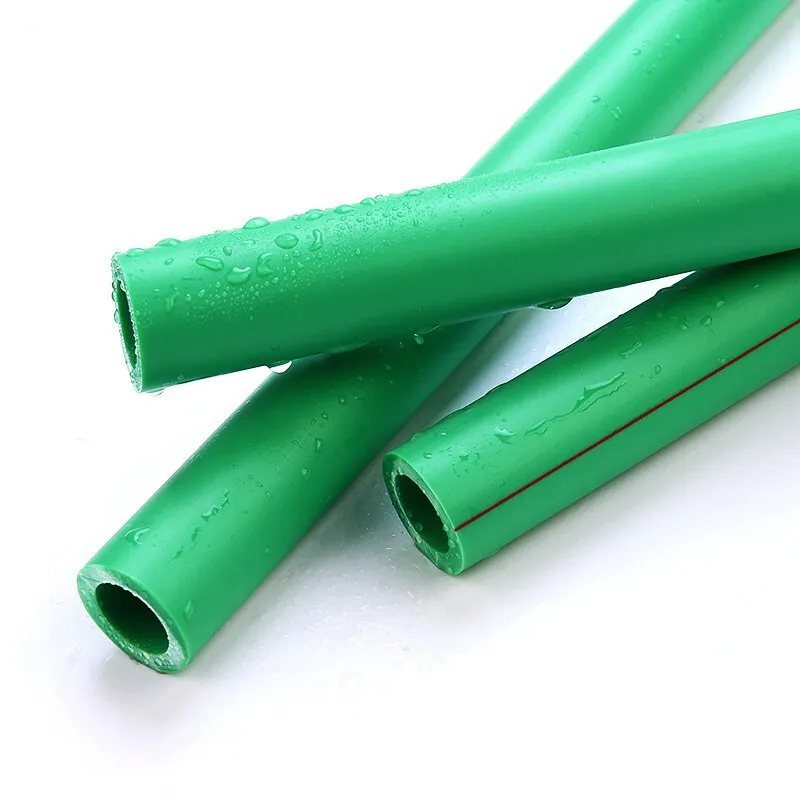 Application of PPR pipe:
1. The cold and hot water system of the building, including the central heating system;
2. Heating systems in buildings, including floors, wall panels and radiant heating systems;
3. Pure drinking water supply system;
4. Central (centralized) air conditioning system;
5. Industrial piping systems for conveying or discharging chemical media.
6. Piping systems such as gas circuits used for cylinder transmission.
Just because of the durability, economy and ecological advantages of PPR pipes, the business volume of PPR pipes in our factory is also increasing every year, supplying PPR pipes has become one of our main businesses.
Ecological and Economical Efficiency of PPR Hot Water Pipes
Due to the light weight of PPR pipes, their transportation, handling and installation do not require a lot of energy consumption or manual labor. At the same time, they are very easy to cut, join and process, making them more economically sustainable. Furthermore, joining PPR pipes and fittings is done by heat only, without any additional chemicals or materials. All these factors contribute to PPR's low environmental impact and cost of use. This new type of PPR pipe is used in hot water supply in our homes or public places.
We are your partner in the PPR pipe market:
If you are looking for a supplier of hot water pipes, please contact us, we provide prices of various specifications of PPR pipes (different sizes, capacities and diameters) for your reference, to meet your needs in different occasions need.