The role of septic tanks
A septic tank is a basic sludge treatment facility and also a pretreatment facility for domestic sewage. Its functions are as follows:
1. Ensure the sanitation of the living community and avoid the spread of domestic sewage and pollutants in the living environment.
2. In the working environment of anaerobic corrosion in septic tanks, kill mosquito eggs.
3. Temporary storage of sludge, organic sludge undergoes anaerobic decomposition, and the matured organic sludge can be used as agricultural fertilizer.
4. Pretreatment of domestic sewage (primary treatment), precipitate impurities and hydrolyze macromolecular organic matter into small molecular organic matter such as acids and alcohols to improve subsequent sewage treatment.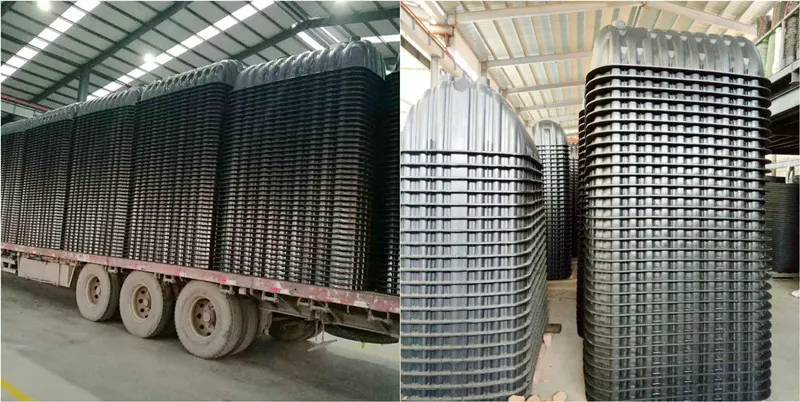 Septic Tank Factory
Eco-friendly Septic Tank
1. Never Leak
The barrel body of the product is made of high-strength acid-resistant and alkali-resistant materials such as glass fiber and organic resin at one time. The problem of groundwater pollution by septic tanks ensures the reliable operation of septic tanks and the function of anaerobic septic;
2. High Compressive Strength
The product structure design is reasonable, and the pressure is uniform. After more than 200 cycle tests, the truck rolls on the upper part without settlement or deformation;
3. Small Footprint
The area occupied by this product is about 45% of the traditional 1000 gallon septic tank, which saves land resources and has the characteristics of flexible site selection;
4. Easy Installation and Construction
It can be freely combined and installed according to the needs of the site, and it can be put into use within two hours after installation;
5. Good Treatment Effect
The upper and lower staggered design of the bulkhead of this product is changed from the original direct-flow flooding to the circular-flow flooding, the matrix transfer is smooth, and the application of the anaerobic biofilter (AF) packing system intercepts more biomass and sewage The processing capacity is more than double that of the traditional septic tank with the same volume;
6. Long Service Life
This product is resistant to moisture, acid and alkali, oxidation, and high and low temperature without deformation, and can be used normally for more than 50 years;
7. Low Economic Indicators
The overall cost is 80% of the reinforced concrete structure, and it is an environmentally friendly product promoted by the urban construction department.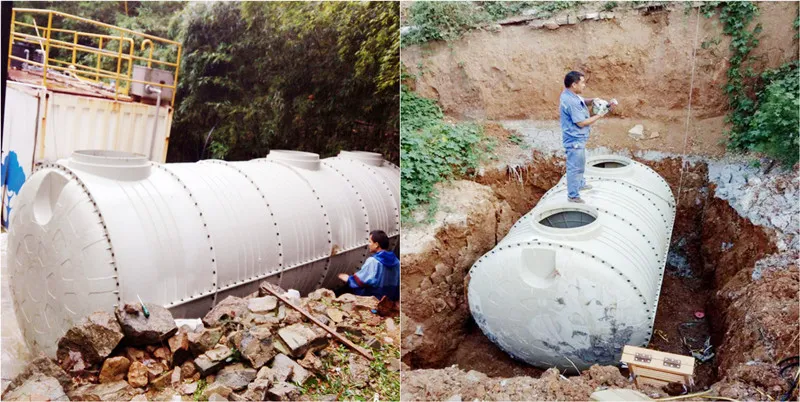 Septic Tank Construction Site
The scope of application of buried fiberglass septic tank
1. This product is suitable for the preliminary treatment of domestic sewage in residential buildings, office buildings, schools, nursing homes, enterprise workshops, living rooms, and other industrial and civil buildings;
2. This product is calculated and used according to the washing wastewater and fecal sewage separation system of the indoor drainage system;
3. This product is widely used in Guangzhou, Shenzhen, Zhuhai, Foshan, Jiangmen, Zhongshan, Dongguan, Huizhou, Heyuan and other Pearl River Delta regions, Sanya in Hainan, Nanning in Guangxi, and other places. It can be installed at multiple angles according to the needs of sewage discharge;
4. In front of the inlet and outlet pipes of the septic tank, a drainage inspection well should be installed.
The combined plastic septic tank is molded into septic tank components through the injection molding process and can be assembled into septic tanks of any specification and size at the construction site by using the bolt flange connection method, which successfully solves the problem of brick structure septic tanks. Leakage, short service life, poor operating conditions, difficult maintenance, high cost of reinforced concrete septic tanks, and long construction period.
Features
Good sealing: no leakage, avoid water pollution.
Good corrosion resistance, corrosion resistance of acid, alkali, salt, and other chemical substances, and the service life is more than 50 years
Convenient transportation and installation: the structural form of on-site assembly is adopted, which is convenient for transportation and installation.
Excellent economic performance: the construction cost is more than 1/3 lower than that of reinforced concrete septic tanks.

Haili Pipe Factory
Septic Tank Anti-seepage Design
1. Unique design, pressure, and impact resistance
The unique circumferential dense corrugated structure design, the compressive and impact strength is several times stronger than that of the square, cylindrical, and spherical arched types, and it can be used in different situations without any other reinforcement measures. There is no abnormality in the ordinary type carrying 20 tons of trucks, and the reinforced type carrying 40 tons of trucks.
2. Compact structure, saving space
The product has a compact structure and a small footprint. The actual footprint is about 60% of that of a traditional septic tank, saving land resources.
3. Easy installation, saving labor and time
Factory production, lightweight, convenient transportation, flexible site selection, short construction period, low construction cost, and can be installed and used on the same day.
4. Never leak, good tightness
The product is integrally produced, with leading technology, with no cracks and no leakage, which avoids the traditional septic tank, which affects the safety of groundwater and buildings due to leakage.
5. Green and environmental protection, easy to manage
The product adopts "MDS special filler" inside, through the suspension spherical filler anaerobic film-hanging reaction, mainly the biofilm attached to the carrier, after full contact reaction, the reaction efficiency is improved, it is a new generation of high-efficiency non-powered anaerobic oxygen reactor.
6. Economical and practical, cost saving
The budget price is about 20% lower than that of reinforced concrete septic tanks, and basically the same as that of brick septic tanks. YJBH type septic tank is an ideal product with high quality, low price, and economic benefits, and is highly praised by real estate development companies, construction units, and construction units.
7. Durable, safe and efficient
It adopts polymer composite materials, conforms to the development trend of materials, is not easy to age, does not deform, is resistant to acid and alkali, and is resistant to corrosion. Normal use has the same life span as buildings. Eliminate the situation that traditional septic tanks are not suitable for acid sewage.