Item

Steel Belt Reinforced HDPE Corrugated Pipe

Material

HDPE and Steel

Size

500mm ~ 1800mm

Standard

CJ/T 225-2011

Color

Black

Other colors are also available upon request

Application

Oil field municipal construction, chemistry, shipping, mine, agriculture as well as sea transportation

Advantages

1. Leading technology

2. Big diameter and strong strength

3. Reliable performance

4. Corrosion resistance and long service life

5. Diversified connection methods

Payment items

T/T L/C

Port

Qingdao
Ring Stiffness: SN8, SN10, SN12.5, SN16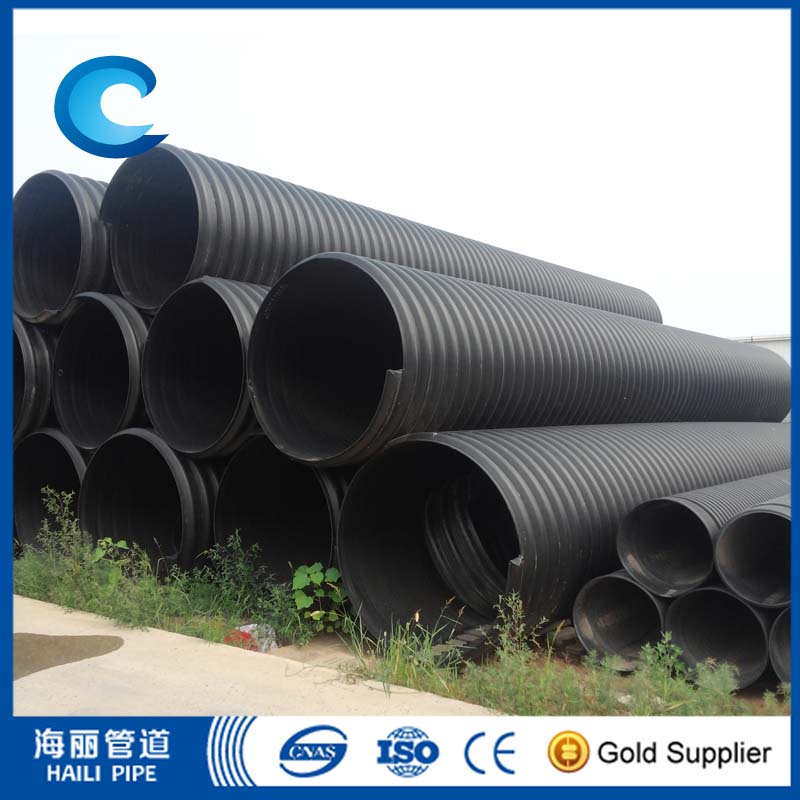 Advantages of Steel Belt Reinforced HDPE Corrugated Pipe
Leading technology
The HDPE Corrugated Pipe adopts advanced pipe type structure, belonging to the international synchronic advanced technology. The internal part adopts superior cold rolling steel plate frame. It is the pipe that has high stiffness in numerous drainage pipes.
Steel Belt Reinforced HDPE Corrugated Pipe have big diameter and strong strength
For the U type steel belt composite PE material is adopted; the ring stiffness of HDPE Corrugated Pipe is increased greatly under the condition that no cost is increased. Under the circumstance of same weight, its strength is increased substantially compared to that of the wound pipes and carat pipe. Currently, the stiffness is maintained above 8KN/㎡ while the diameter of the manufactured pipes ranges from DN600mm to DN2200mm, its weight is lighter than that of other plastic pipes and cement pipe and strength is stronger.
Steel Belt Reinforced HDPE Corrugated Pipe Reliable performance
The composition of each layer shall be carried out at the melting state of the plastic; as completely different from the secondary melting and molding of the wound pipe (hollow wall pipe), therefore, among each layer, it is complete adhesive and highly firm.
Corrosion resistance and long service life
The special pretreatment is performed on the surface of the steel belt to strength the corrosion prevention of the steel and the cohesion of the steel and plastic in order to increase peel strength. Entangled and molded under that state that the raw material of the plastic is fully melted. The overall structure of Steel Belt Reinforced HDPE Corrugated Pipe is firm and reliable, For the special material and process adopted solves the problem of corrosion prevention of the steel plate and also solve the cohesion degree of the steel plate and the PE material, thus the service life of the pipe is ensure to exceed more than 50 years just like the pure plastic pipe.
Diversified connection methods
Reliable connection: electric fusing connection, thermal contraction band connection, inside and outside extruded welding or multiple connection combinations can be adopted. The reliable connection make the pipe realize zero leak through.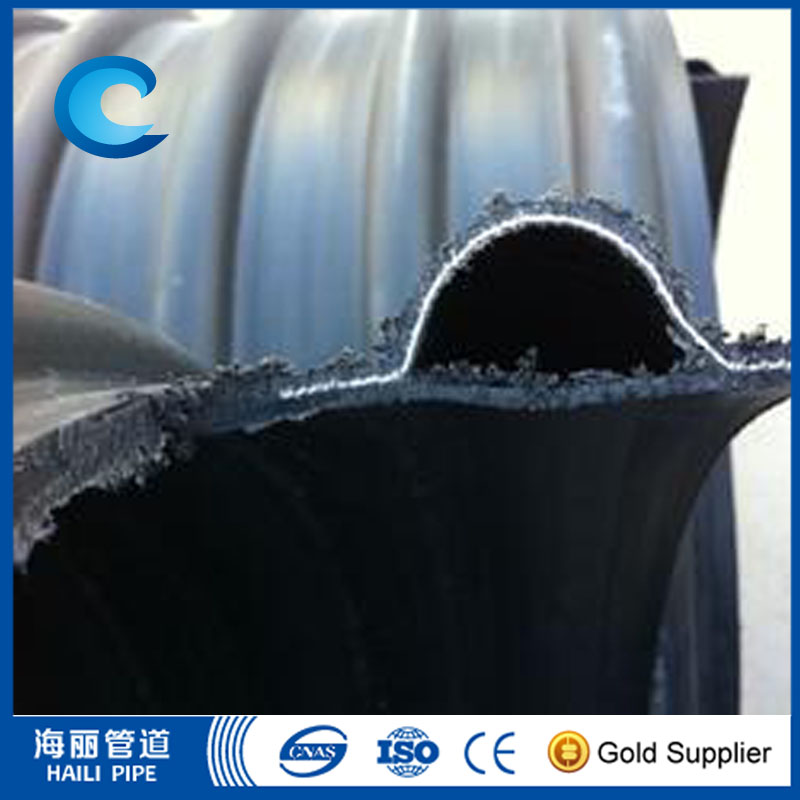 Steel belt REINFORCED HDPE corrugated pipe application field
Application scope: Oil field municipal construction, chemistry, shipping, mine, agriculture as well as sea transportation.
If you are planning to purchase steel belt REINFORCED HDPE corrugated pipe for your project. Or you are looking for a Chinese HDPE corrugated pipe manufacturer or factory. We are your best choice.