Different heat transfer media is divided into two types: water floor heating and electric floor heating. According to different pavement structures, it is mainly divided into two types: dry floor heating and wet floor heating.
Water floor heating refers to a heating method that heats water to a certain temperature, transports it to the water pipe cooling network under the floor, and realizes the purpose of heating through floor heating.
The low-temperature ground heating medium forms a gradually decreasing temperature gradient from the soles of the feet to the head indoors, thus giving people a comfortable feeling of warming the feet and cooling the head. Ground radiant heating conforms to the fitness theory of "warming the feet and cooling the top" in traditional Chinese medicine. It is the most comfortable way of heating and a symbol of the quality of modern life.
Dry-type floor heating does not require pea stone backfill (belongs to ultra-thin); from the surface decoration materials, it can be divided into floor-type floor heating and floor tile-type floor heating; from the function, it can be divided into ordinary floor heating and far-infrared floor heating.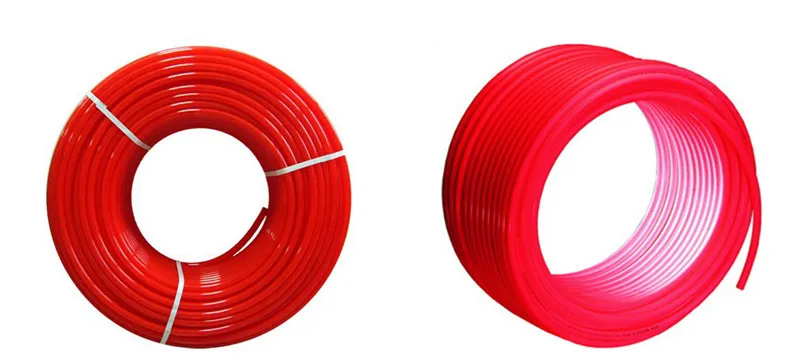 PERT
A relative newcomer in North America, PERT stands for polyethylene raised temperature. Used for over 20 years in Europe, PE-RT is certified to ASTM F2623 and provides pressure/temperature ratings of 160 psi at 73F and 80 psi at 180F. PE-RT tubing is available with an oxygen diffusion barrier for closed hydronic systems. It is available in sizes ranging from " one-inch nominal inside diameter.
One key difference between PERT and PEX is that PERT is a thermoplastic, whereas PEX is a thermoset polymer. A thermoplastic can be heated and melted, whereas a thermoset polymer cannot. This allows PERT to be joined to compatible polyethylene fittings using socket fusion. The tube's outside surface and the fitting's inside surface are simultaneously heated using a unique tool.
At temperatures in the range of 450F to 465F, PERT assumes a semi-molten state. After a specified heating time, the tubing and fitting are simultaneously pulled off the heating tool and pushed together to form a powerful and permanent bond. PERT is also used in combination with an aluminum core to create a composite pipe referred to as PERT-AL-PERT.
Raw Material of PERT Floor Heating Pipe
The raw material of this pipe is PERT, which is a medium-density polyethylene produced by a special molecular design and synthesis process. It adopts the method of copolymerization of ethylene and octene and obtains a unique molecule by controlling the number and distribution of side chains. Structure, to improve the heat resistance of PE pipe. Due to the existence of octene short-chain branches, the macromolecules of PE cannot be crystallized in a sheet crystal, but run through several crystals, forming a connection between crystals, which retains the good flexibility of PE tubes, High thermal conductivity, and inertness, while making it better pressure resistant.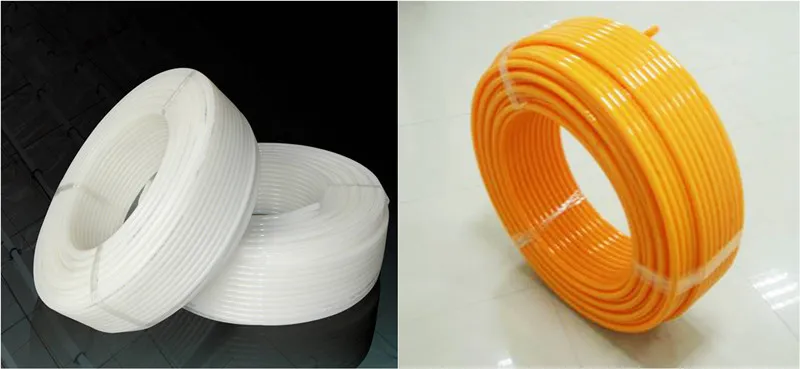 Material Development History
PERT raw materials not only have qualified creep failure curves, but also the price of the pipe is moderate, and the construction is more convenient and faster than other varieties. The inner diameter of pipes of the same specification, because there is no mechanical connection method of partial diameter reduction in the system, the fluid resistance of the system is relatively small.
With the development of plastic technology, room heating systems can provide a variety of plastic pipes for different purposes. Because the plastic pipe has the advantages of a smooth inner wall, small heat medium flow resistance, acid and alkali resistance, long service life, and convenient installation. In recent years, PERT has been widely used in floor heating systems. As a new generation of special heating pipes, PERT is gradually becoming the mainstream product in the floor heating market.
Quality Impact
PERT is a medium-density ethylene-octene copolymer with narrow molecular weight distribution and octene evenly distributed on the polymer main chain. Due to the existence of short-chain octene branches, its macromolecules cannot be crystallized in a lamella. Instead, it runs through several flaky crystals to form a connection between crystals, so it has excellent stress crack resistance. During the extrusion process of PERT pipe, there are a few factors that affect the quality of the pipe, and the performance of the pipe is mainly provided by the raw material itself. Therefore, the key factor that determines the quality of the product lies in the quality of the special material for the pipe. At present, only DOWLEX 2344E of Dow Chemical in the United States and DX800 of SK in South Korea have passed the test of Bodycote Polymer, a world-renowned plastic pipe testing organization, for PERT pipe materials. Some petrochemical companies at home and abroad are also committed to the research and development of PERT special materials. and authentication work. Therefore, using modern analytical instruments to establish a rapid confirmation method for PERT chemical materials has important practical significance for monitoring the quality of PERT pipes in the market, preventing adulteration and counterfeit products, and solving quality litigation problems during installation and use.

Underfloor Heating Multilayer PERT-AL-PERT Pipes
Features of PERT Floor Heating Pipe
1. Good stability and long-term pressure resistance: the pipe has good homogeneity, stable performance, good thermal creep resistance, and excellent long-term hydrostatic resistance;
2. The pipe is easy to bend and convenient for construction: the bending radius is small (R minimum = 5D), and the stress of the bending part can be quickly relaxed, which can avoid damage to the pipe at the bend due to stress concentration during use. The PERT pipe can be hot-melt connected, so it is easy to repair if the pipe is damaged during application.
3. Good impact resistance, high safety, low-temperature embrittlement temperature can reach 70 degrees, and can be transported and constructed in the low-temperature environment;
4. Aging resistance and long service life: due to the excellent characteristics of PERT material, PERT pipe can be used safely for more than 50 years under the condition of a working temperature of 70°C and pressure of 0.8MPa.
5. The processing technology is convenient and the quality is easy to control;
6. The waste pipe can be melted and recycled