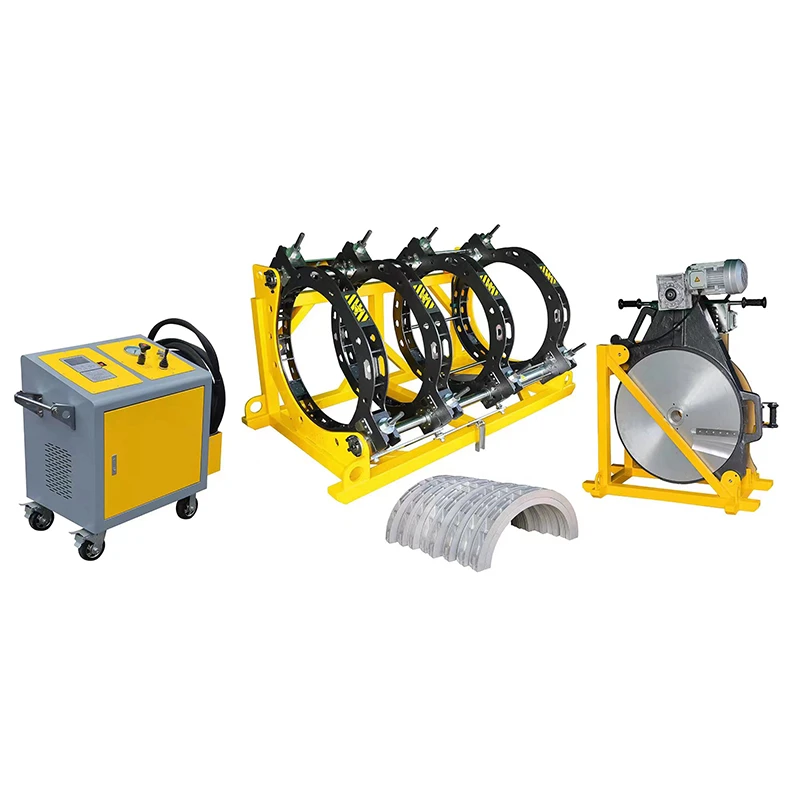 PE pipes have absolute advantages in water supply, heat, engineering, machinery, etc. The PE pipe welding machines processed by them are also popular in the machinery industry. Due to technical reasons, there are not many high-quality suppliers who can supply PE pipe welding machines , we Haili Pipe Industry as a supplier provide wholesale price of PE pipe welding machine.
Why are fusion splicers made of PE pipes more popular?
PE pipe has absolute advantages in many aspects. The processed pipe can be coiled, has good flexibility, can be laid in a serpentine shape to easily bypass obstacles, can be processed multiple times, has good corrosion resistance, and is resistant to corrosion. Good impact resistance, good air tightness, etc. The expansion coefficient of PE gas pipe is generally about 10 times that of steel pipe. PE pipe is not sensitive to acid, alkali, salt and stray current, and will not be corroded by microorganisms. At the same time, the PE gas pipe is convenient to connect, simple to construct, requires less maintenance, has a long service life, and has obvious economic benefits. Therefore, many manufacturers of PE pipes also provide wholesale business of PE pipe fusion machines.
Connection method of PE pipe
The connection methods for PE pipes at home and abroad include three types: hot-melt butt joint, hot-melt plug joint, and electric fusion welding. The hot-melt butt joint is a method in which the end interfaces of PE pipes are heated and melted by a heating plate, then butt-fused with each other, and then fixed and connected together after cooling. When PE material is heated above its melting temperature, it becomes a viscous fluid. Under the action of welding pressure, they are firmly welded together. A hot-melt electric welding machine is used to heat the end pipes to melt them, and then fit them together to ensure a certain pressure, and finally achieve the purpose of welding. For pipes with a nominal diameter of less than 63mm, it is recommended to use electrofusion connection, which is economical and reliable, and its interface has higher strength than the pipe itself when it is under tension and pressure.
Hot melt butt welding machine has the following characteristics:
① The heating plate adopts advanced electronic temperature control device for temperature control, and the surface temperature is uniform.
② The heating plate is sprayed with imported Daikin non-stick paint twice.
③ The rigidity of the whole machine and fixture frame is good, the structure design is reasonable, and the construction is convenient (determined according to the size and control form of the machine, mainly based on practicality)
④ The third main fixture of the frame can be repositioned, and can be easily welded with elbows, tees and other pipe fittings.
⑤ The hydraulic and temperature control system adopts integrated block design, which is compact in structure. The temperature and pressure parameters are displayed on the same operation interface, which is accurate and intuitive; it also has a pressure maintaining function, which can keep the pressure stable when the motor is turned off. The operation is simple and the performance is reliable.
⑥ The heat absorption time and cooling time can be set separately, and the alarm prompts when the timing ends, which is easy and reliable to operate.
⑦ The hydraulic part has overheat and overload protection functions.
⑧ Fully automatic welding, greatly reducing human factors in the welding process, automatic temperature and pressure compensation.
⑨Can output welding report. Print receipts directly or output via USB interface.
⑩Single-piece slips, easy to operate, greatly reducing construction strength
With so many advantages of PE fusion splicing machine, it quickly occupied most of the market and is widely used in production and life. Affected by the epidemic, the current wholesale price of PE fusion splicing machine is very unstable. As a The supplier of PE welding machine strictly controls the quality and controls the stability of the price to the greatest extent.