Specification of our
PP-R Water Pipe
Item

PP-R Water Pipe

Material

PP

Size

16mm ~ 160mm

Pressure rating

S5, S4, S3.2, S2.5,S2

Standard

GB/T18742.2-2002

Color

Grey or white, for cold water is marked with blue stripes, for hot water is marked with red stripes

Other colors are also available upon request

Application

1. Cold and hot water supply

2. Heating system including flooring heating, wall heating Etc

3. heating and radiant system

4. Central air conditioning system

5. Industrial liquids transportation

Advantages

1. High Temperature Resistance

2. Heat Preservation

3. Non-toxic

4. Corrosion Resistance

5. High Flow Capacity

6. Excellent Flexibility

7. Low Installation Cost

8. Long service life

9. Recycled and Environment-friendly

Payment items

T/T L/C

Port

Qingdao

What is PPR water pipe?
PPR water pipe is a polymeric material pipe.
PPR is the abbreviation of Polypropylene-Random. PPR pipe is an updated product of UPVC water supply pipe, aluminum-plastic pipe, PE pipe, PE-X pipe and PE-RT pipe. Because it uses random copolymerization technology, the strength and high temperature resistance of polypropylene are well guaranteed, thus becoming the main force of water pipe materials.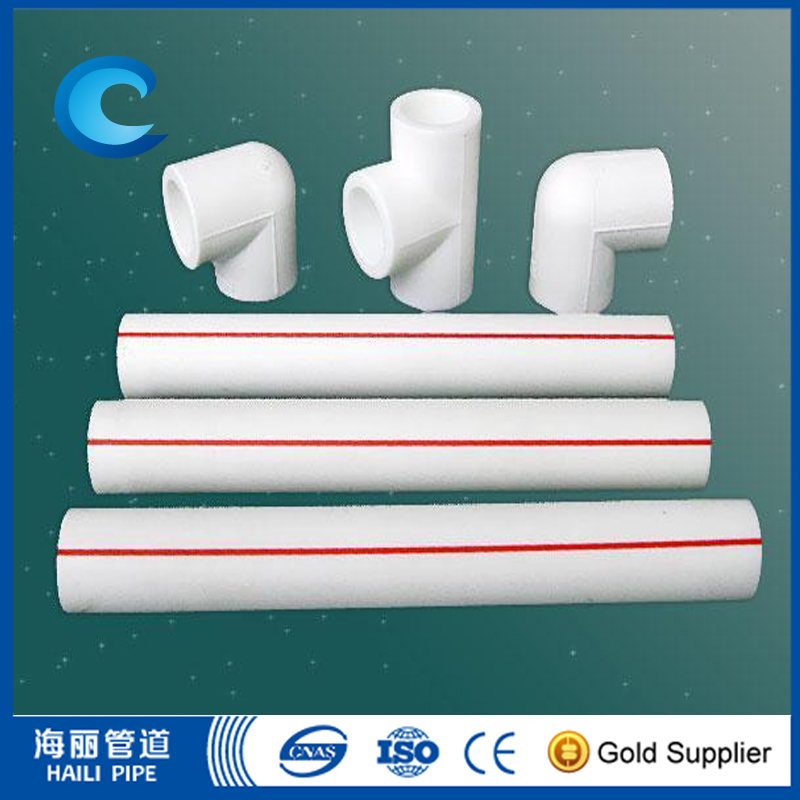 Advantages of our PP-R Water Pipe
High Temperature Resistance
the maximum sustained working temperature is up to 70℃, the maximum transient temperature is up to 95℃.
low thermal conductivity which is only 1/1500 of brass pipe, and 1/250 of steel pipe.
no heavy metal additives, no dirt, no secondary pollution caused by bacterium.
resist chemical mediator corrosion and electron chemical corrosion.
smooth inner wall and low friction result in low flow resistance and high volume.
can be coiled.`
light weight and easy installation can reduce installation cost.
more than 50 years.
Recycled and Environment-friendly

.

Applications of our PP-R Water Pipe
Cold and hot water supply

Heating system including flooring heating, wall heating Etc.

heating and radiant system

Central air conditioning system

Industrial liquids transportation

Pipe Connection of our PP-R Water Pipe
Pipe and fitting connection, which adopts butt fusion mode, are not allowed to mantle fiber directly in the pipe and fittings. Metal embedded part fittings must be used when connecting with the metal pipe or water device.