Product Parameters for Our MPP Electrical Conduit Pipe
Name: MPP Electrical Conduit Pipe
Material: MPP
Specification:DN110mm-315mm
Standard:DL/T 802.7
Product color: orange
Raw materials: PP powder is the main masterbatch.
Product length: generally 6 meters/piece, can be made into 6-13 meters/piece.
Product type: ordinary type and reinforced type, reinforced type is divided into excavation pipe and non-excavation pipe.
Connection method: use a welding machine to hot-melt butt joints, the fusion point is about 200 degrees, and cannot exceed 220 degrees. When the temperature reaches, the two ends can be butted. (Because the connection method of the MPP pipe is hot melt welding, the welding port is not good, it will damage the cable or may be flattened, so the MPP power pipe must be made of new material).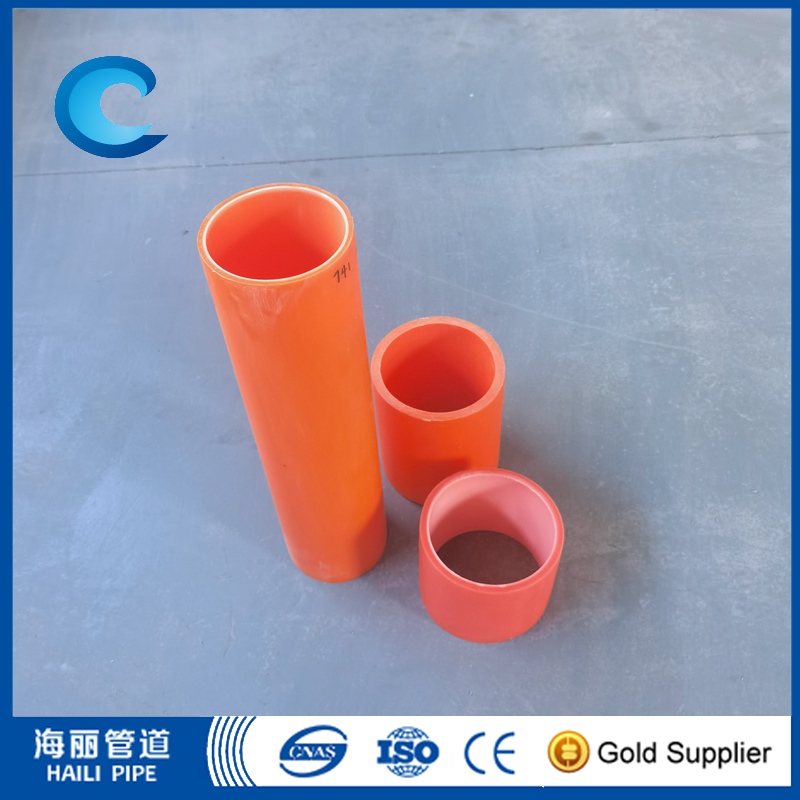 Product Introduction
MPP material refers to a kind of modified polymer which is based on ordinary polypropylene resin (PP) and added with chemical raw materials and chemical auxiliaries with heat resistance, high pressure resistance and excellent insulation properties. Compared with ordinary PP material, MPP material has more impact resistance, oil resistance and chemical resistance, and also has excellent properties such as strong thermal stability and local heat resistance, which is suitable for the production of MPP power tubes.
MPP material, also known as modified polypropylene material (MPP material), is mainly used to produce MPP power cable pipes. Modified polypropylene pipes (MPP pipes, MPP power pipes) have the characteristics of high temperature resistance and external pressure resistance, and are suitable for 10KV The above high-voltage transmission line and cable pipes and pipes. MPP power cable pipe has good electrical insulation; it has high thermal deformation temperature and low temperature impact performance; MPP pipe has higher tensile and compressive properties than HDPE; in addition, MPP pipe is light, smooth, with low friction and can be hot-melted Welded butt; MPP pipe has excellent physical properties of corrosion resistance, long service life. MPP electrical conduits are made of modified polypropylene. The conduits can be laid without the requirements of excavation and destroying roads, which makes them can be applied to special constructions in roadway, railway, buildings and riverbed. Compared with traditional excavation construction, non-excavation construction is more environmental without the result of floating dust and traffic jam caused by construction. It is specially applied to constructions in historical sites, downtown, farms, highways and rivers which are hard to carry out excavation construction.
Identification of MPP Pipes and Non-MPP Pipes
In fact, it is not difficult to understand the properties of MPP and HDPE materials, and it is not difficult to identify MPP pipes and non-MPP pipes; MPP pipes have the characteristics of high temperature resistance, and the pipes are rigid, while HDPE double-wall corrugated pipes cannot withstand high temperature, and the material is thermoplastic; understand this essence After the distinction, it is very easy to identify without special testing equipment at the construction site. The pipe end can be sliced with the cutting machine attached to the pipe hot-melt butt machine. Because the MPP power pipe has the characteristics of high temperature resistance, it will not decompose during cutting. The cutting surface is smooth and flat; while the PE pipe cannot withstand high temperature, it will soften and decompose during cutting, and the cutting surface is rough. In addition, those who are familiar with the two kinds of pipes can also identify by tapping the pipes and the sound of the tapping. Due to the rigidity of the MPP pipe, the sound is clear and loud.
Advantages of Our MPP Electrical Conduit Pipe
1, Excellent electrical insulation property
2, Better in crush resistance and anti-tension than HDPE pipes
3, Higher distortion temperature and good performance in low-temperature impact
4, MPP conduits have light weight and smooth surface with small friction
5, MPP conduits can be connected by thermofussion welding and their service temperature range from -5℃ to 70℃
Application of Our MPP Electrical Conduit Pipe
1, Pipeline constructions in municipal construction, telecommunication, electric power, gas, water and heat supply
2, Urban and rural non-excavation directional drilling power pipeline construction and open excavation power pipeline construction
3, Urban and rural non-excavation directional drilling drainage pipeline construction and industrial sewage drainage construction