What is MPP single wall corrugated pipe / HFFB electric power pipe
The full name of HFFB power pipe is "composite reinforced polypropylene HFFB single-wall corrugated pipe for power cable protection", (F: composite reinforced type; B: single-wall corrugated pipe), commonly known as MPP single-wall corrugated pipe.
It is mainly used in urban and rural open excavation cable piping projects for high-voltage transmission lines and cables above 10KV.
The ordinary type is suitable for laying under sidewalks and green belts, and the standard type is suitable for laying across the road, without the need for concrete encapsulation. If the requirements for seismic and compressive use are more stringent or replace the steel pipe to cross the bridge, the reinforced type ( SN50) Special customized products.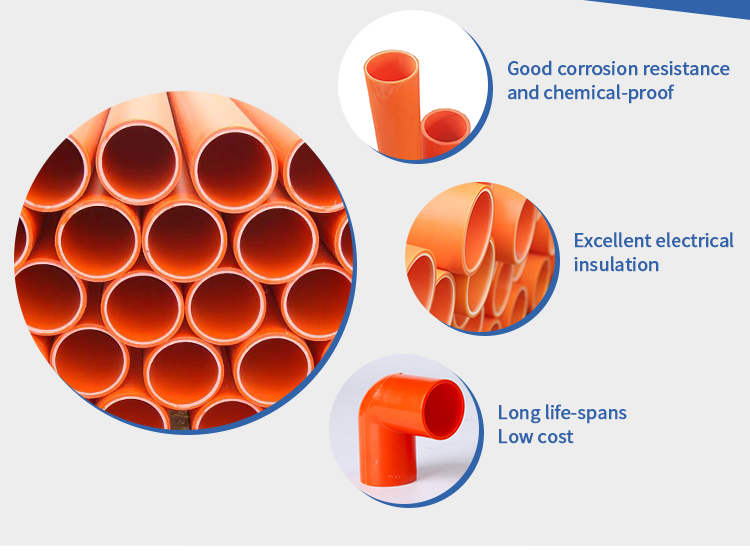 Advantages of MPP/ HFFB power pipe
1. MPP power tube has excellent electrical insulation.
2. MPP power tube has high thermal deformation temperature and low-temperature impact performance.
3. The tensile and compressive performance of the MPP power pipe is higher than that of HDPE.
4. The MPP power pipe is light in weight, smooth, with little friction, and can be welded by hot fusion.
5. The long-term use temperature of MPP power tube is 5 ~ 70 ℃
MPP / HFFB power pipe construction instructions
1. During the transportation and construction of the pipe, it is strictly forbidden to throw, hit, scratch, and expose it to the sun.
2. When the PP power pipe is hot-melted butt-jointed, the axes of the two pipes should be aligned, and the end face cutting should be vertical and flat.
3. The processing temperature, time, and pressure of the P power tube should be adjusted accordingly depending on the weather conditions.
4. The minimum bending radius of the PP power pipe should be ≥75 pipes' outer diameter.