Installation method of quick-connect(socket fusion) PE pipe fittings
1. Cut the end of the PE pipe flat, and there should be no plastic end or other debris
2. Install the parts of the PE pipe fittings on the PE pipe in sequence
3. Tips:
(1) The length of the exposed pipe in the front section of the sealing ring is between 5-10mm, which should not be too long. It can only be adjusted appropriately within the specified range according to the diameter of the PE pipe;
(2) The inclined end of the pressure pad faces the steel clip. If the installation direction is wrong, it is easy to cause the PE pipe fittings to be unable to withstand high pressure;
(3) When installing, remember to hold the steel clip tightly with your hands to keep the sealing ring and pressure pad from sliding, and install the pipe in the PE pipe fitting, otherwise it will easily cause the length of the pipe to enter the pipe fitting is too long, which will affect its use. performance;
4. After the installation is completed, use a special wrench to tighten.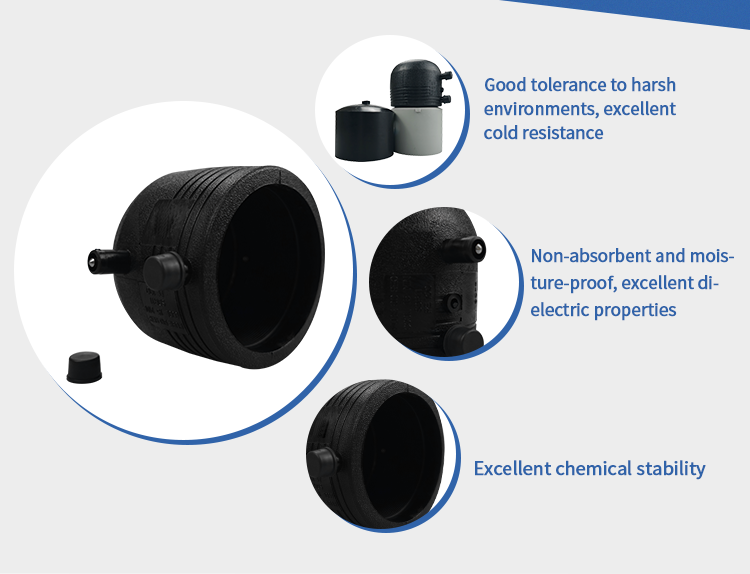 Precautions for the correct connection of PE pipes
1. When installing PE pipes and fittings, corresponding special heating tools should be used according to different interface forms, and open flames should not be used to heat pipe fittings.
2. The end of the pipe should be clean when the pipe is connected, and the mouth of the pipe should be temporarily blocked at each end of work to prevent debris from entering the pipe.
3. After each connection is completed, the appearance and quality inspection should be carried out, and those that do not meet the requirements must be cut and reworked.
4. Take protective measures or adjust the construction process when connecting in cold climate (below -5C) and strong wind environment.
5. Pipes and fittings should be connected at the construction site for a certain period of time, so that the temperature of the pipes and fittings is consistent.
6. Before the PE pipe fittings are connected, the pipes and PE fittings accessories should be checked according to the design requirements, and the visual inspection should be carried out on the construction site, and they can be used only if they meet the requirements. The main inspection items include pressure resistance level, outer surface quality, matching quality, consistency of village quality, etc.