Briefly introduce about PE pipe and PPR pipe
What is PE pipe?
PE pipe is often called HDPE pipe, and its main component is HDPE, that is, high density polyethylene. According to the latest national standard GB / T 13663.2-2018, the diameter of HDPE water supply pipe is de16-de2500mm, the nominal pressure is dn0.4-2.0mpa, and the specifications cover a wide range.
What is PPR pipe?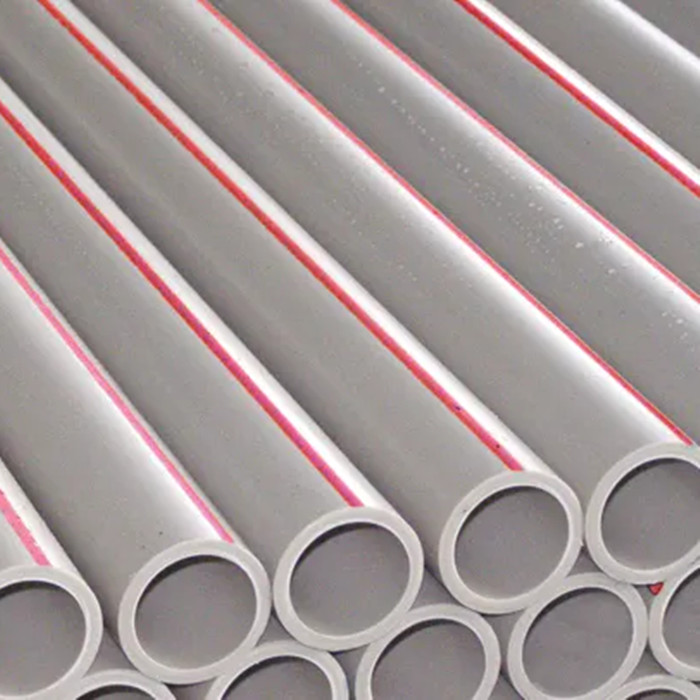 The full name of PPR pipe is type III random polypropylene pipe. The main component is a copolymer polymerized by propylene monomer and ethylene monomer. According to the latest national standard GB / T 18742.2-2017, the diameter of PPR water supply pipe is de16-de200mm, which is divided into five series: S5, S4, s3.2, s2.5 and S2. There is no large-diameter PPR water supply pipe.
The two are polymer materials with different structures, but they are both environmental friendly building materials, sanitary and non-toxic, and they are connected by hot melting, which is safe and reliable.
PE pipe and PPR pipe have different advantages
Advantages of HDPE water supply pipe
1. High strength, excellent environmental stress cracking resistance and creep resistance;
2. It has good toughness and flexibility, strong adaptability to uneven and misplaced foundation, and can withstand adverse environments such as earthquakes and typhoons;
3. It has good weather resistance (including ultraviolet resistance) and long-term thermal stability;
4. Corrosion resistance, no anti-corrosion treatment, long service life;
5. The inner wall is smooth, the water flow resistance is small, the flow capacity is large, and the construction cost is saved;
6. Good wear resistance and abrasion resistance;
7. It has good low-temperature impact resistance and can be used safely within the temperature range of - 20 ~ 40 ℃, without affecting winter construction;
Advantages of PPR water supply pipe
As we all know, PPR pipes are relatively green, healthy and environmentally friendly compared with traditional water pipes. What are the specific advantages?
1. Light weight
At 20 ℃, the density is 0.90g/cm3, and the weight is only one ninth of that of steel pipe and one tenth of that of copper pipe. The weight is light, which greatly reduces the construction strength.
2. Good heat resistance
The instantaneous use temperature is 95 ℃, and the long-term use temperature can reach 75 ℃, which is the most ideal indoor cold and hot water pipe at present.
3. Corrosion resistance
Non polar materials, which have no chemical effect on all ions in water and chemicals in buildings, will not rust and corrode.
4. Low thermal conductivity
It has good thermal insulation performance. When used in hot water system, there is generally no need for additional thermal insulation materials.
5. Low pipeline resistance
The smooth inner wall of the pipeline makes the resistance along the pipeline smaller than that of the metal pipeline, and the energy consumption is lower.
6. The pipes are firmly connected
With good hot-melt performance, hot-melt connection connects pipes and fittings of the same material into a perfect whole, eliminating hidden dangers of water leakage.
7. Hygienic and non-toxic
It does not pollute the environment during production, construction and use, and belongs to green building materials.
PPR pipe has its advantages and disadvantages. It is these advantages that make it popular in thousands of households, but there are also shortcomings. However, on the whole, aluminum-plastic pipe has occupied a place in the plastic pipe market with its excellent performance and wide application fields, and is recognized as an environmental protection product.
PE pipe and PPR pipe have different application fields
1. PPR pipe heat resistance: the molecular characteristics of HDPE water supply pipe determine that it is mainly used for cold water transmission. When the working temperature rises, the pressure resistance, life and other indicators of PE water pipe will drop sharply, especially above 40 ℃. The PPR water supply pipe can be used at the working temperature of 70 ℃ for a long time, and the temperature can reach 95 ℃ for a short time. It is also for this reason that PPR pipes are generally used for domestic hot water (water temperature is 60-70 ℃), and PE pipes are not suitable.
PE pipe frost resistance: the low temperature embrittlement point of PE pipe is - 70 ℃, which can be safely used in the temperature range of - 40-40 ℃. When used in outdoor cold water pipes, it has obvious advantages over other pipes.
2. HDPE water supply pipes can be made with large caliber and complete specifications. In particular, the large-diameter specification is the most mainstream tap water delivery pipe at present, and the PPR water supply pipe is generally less than 110mm, which is mainly used for cold and hot water pipes in buildings.
3. PE pipe has strong abrasion resistance and excellent hydraulic performance, so it can be buried without external protection. Its excellent flexibility makes it suitable for earthquake and mining soil settlement areas, and it can also be laid at the bottom of rivers by sinking method. But PPR tube is weak in this respect.
4. In the case of outdoor open installation, because the HDPE water supply pipe is required to be made in black according to the standard, the black PE pipe can greatly reduce the damage of ultraviolet rays to the pipe and can be installed without protection. PPR water supply pipes are generally light colored pipes, which need to be protected from light for surface installation to prevent UV damage.
5. In the case of concealed indoor installation, PPR pipes should be used for indoor pipes due to the common colors of PE pipes and PPR pipes.
HDPE water supply pipe or PPR water supply pipe?
Therefore, there is difficult to say which is better between PE pipe and PPR pipe. Under different environments and specific conditions, different pipes need to be selected. In brief, PE pipes are used for large-diameter and outdoor pipelines; PPR pipes should be used for hot water and indoor home decoration.