What material is PVC ?
PVC material is polyvinyl chloride. The price of polyvinyl chloride is relatively cheap and widely used. It is the raw material of plastic. Adding an appropriate amount of plasticizer to polyvinyl chloride resin can be made into a variety of hard, soft and transparent product. The following small series will introduce you to the PVC material in detail.
PVC is actually a vinyl polymer, and its material is an amorphous material. In practical use, PVC materials often add stabilizers, lubricants, auxiliary processing agents, pigments, impact resistance agents and other additives. It has non-flammability, high strength, weather resistance and excellent geometric stability. PVC is very resistant to oxidizing agents, reducing agents and strong acids. However, it can be corroded by concentrated oxidizing acids such as concentrated sulfuric acid and concentrated nitric acid and is not suitable for contact with aromatic hydrocarbons and chlorinated hydrocarbons. In addition, the term person vs computer in the game is abbreviated as PVC, and PVC human figures are often abbreviated as PVC and so on.
PVC can be divided into soft PVC and hard PVC. Among them, hard PVC accounts for about 2/3 of the market, and soft PVC accounts for 1/3.
Soft PVC is generally used for the surface of floors, ceilings and leather, but because soft PVC contains softeners (this is also the difference between soft PVC and hard PVC), it is easy to become brittle and difficult to store, so its scope of use is limited.
Hard PVC does not contain softeners, so it has good flexibility, easy to form, not easy to be brittle, non-toxic and pollution-free, and has a long storage time, so it has great development and application value. The essence of PVC is a vacuum blister film, which is used for the surface packaging of various panels, so it is also called decorative film and adhesive film, and is used in many industries such as building materials, packaging, and medicine. Among them, the building materials industry accounts for the largest proportion, accounting for 60%, followed by the packaging industry, and several other small-scale application industries.
Advantages of pvc pipe fittings:
1. Anti-aging and long service life: PVC pipes containing carbon black can be stored outdoors and will not be damaged by ultraviolet radiation. long-lasting.
2. Good chemical corrosion resistance: It can withstand the corrosion of various media, and the substances in the soil will not degrade the pipeline. PVC is an electrical insulator, so it will not rot, rust or electrochemically corrode.
3. Good wear resistance: The wear resistance of this product is 4 times that of steel pipes. In the field of mud transportation, compared with steel pipes, PVC pipes have better wear resistance, which means that pvc pipes have a longer service life and better economy.
4. Reliable connection: The polyethylene pipe system is connected by electric heat fusion, and the strength of the joint is higher than that of the pipe body.
5. Good low-temperature impact resistance: The low-temperature catalytic temperature of PVC is extremely low, and it can be used safely in the temperature range of -60-60 °C. During construction in winter, due to the good impact resistance of the material, the pipe will not be brittle.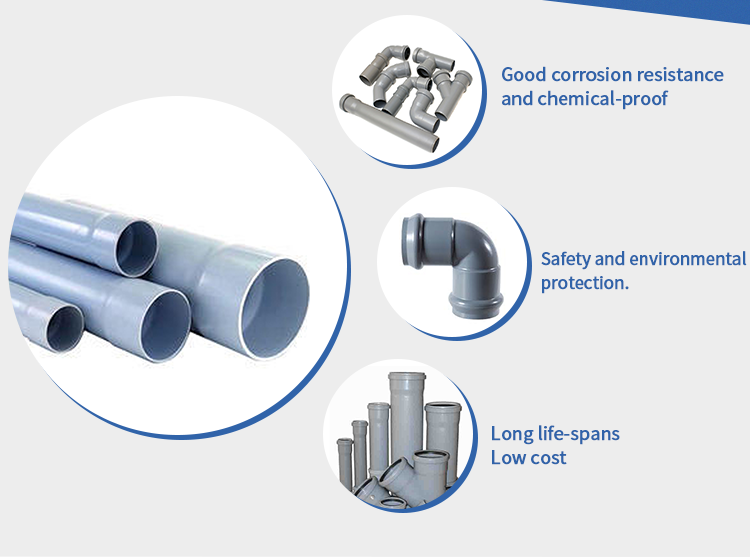 Raw materials used in PVC pipe fittings
①PVC (SG-7) 100, heat stabilizer 3.5, DOP 3.0, ACR (100 or 200) 1.5, PE wax 0.6, internal lubricant (stearic acid or high-quality monoglyceride) 1.2, light calcium carbonate 25.
②PVC (SG-7) 100, heat stabilizer 3.8, DOP 3.0, ACR (100 or 200) 2.0, PE wax 0.35, paraffin wax 0.3, stearic acid 0.3, monoglyceride 1.2, light calcium carbonate 35, ultramarine blue 0.02, Fluorescent whitening agent 0.02.
Specifications of PVC pipe fittings
PVC specifications are: 10mm, 15mm, 20mm, 40mm, 50mm, 110mm refers to the diameter of the pipe. 10mm and 15mm, 20mm is used for threading pipes. 40mm and 50mm for downpipes. 110mm is used for launching the main pipeline and toilet launching.